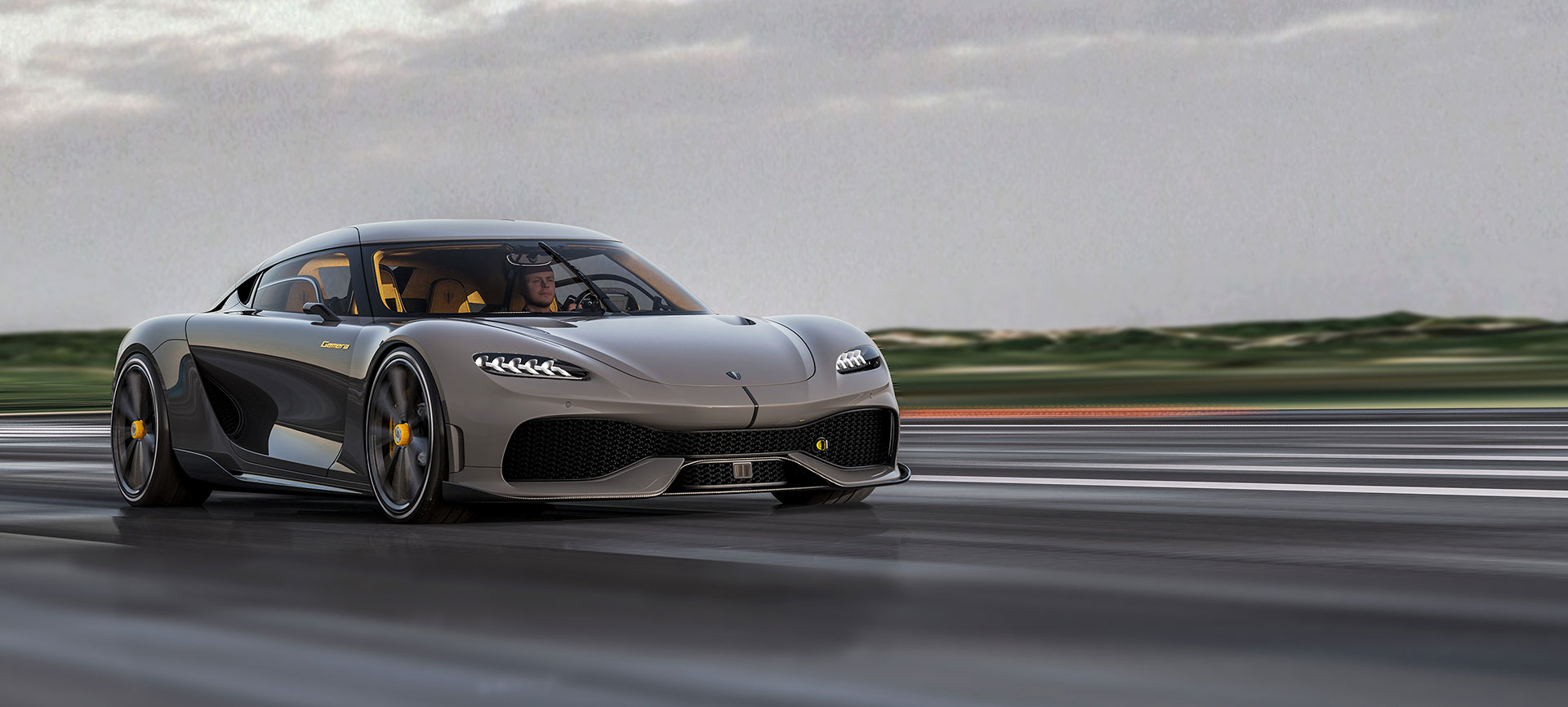 Overview
Overview
Ultimate performance has belonged to the world of two-seaters with very limited luggage space – until now. The Gemera is the world's first Mega-GT and Koenigsegg's first four-seater. Extreme megacar meets spacious interior and ultimate environmental consciousness. The Gemera seats four large adults comfortably with space catering to their carry-on luggage, meaning the Koenigsegg megacar experience can be shared with family and friends. The notion behind Gemera's name – a combination of the two Swedish words – "ge" (give) and "mera" (more) signifies "to give more". A suitable name for a car that adds features and functions without taking away anything that makes it a true megacar. It is not often one can say a new category of car has been created. But in the case of the Gemera it has to be believed – the Mega-GT.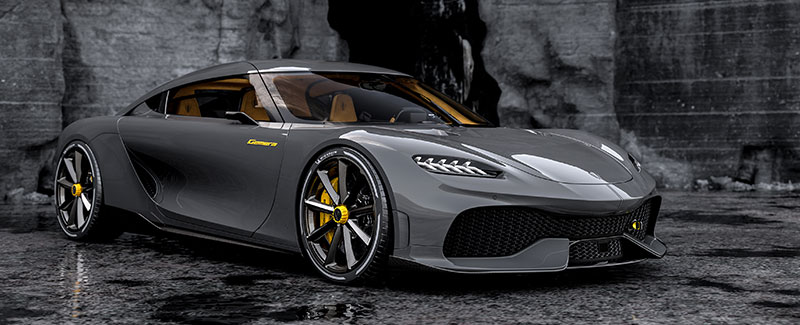 Ultimate performance
Since the birth of the company more than 25 years ago, Koenigsegg has been driven to create the ultimate performance car. Despite being a four-seater, the Gemera easily outperforms most two-seat megacars, both combustion and electric. Still, the focus of the Gemera is taking on long-range public roads – family trips, in comfort, style and safety with never-before-experienced performance. With its 1.27 megawatts of power and 3500 Nm of torque, the Gemera goes from 0 to 100 km/h in 1.9 seconds and to 400 km/h in record matching pace. The Gemera comes with the most amazing sound from a 3-cylinder engine ever.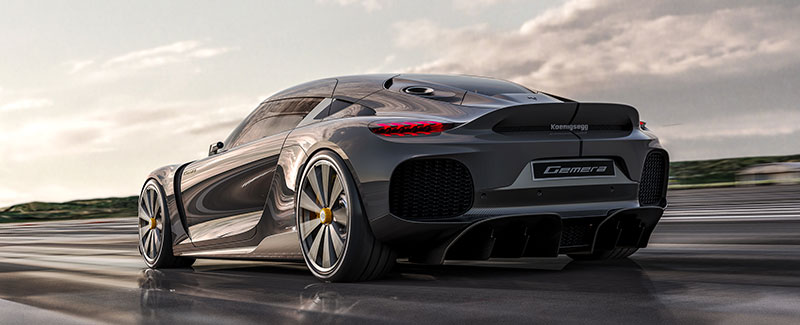 The Tiny Friendly Giant
The Gemera yields a combined power output of 1700 bhp or 1.27 MW. The three electrical motors – one for each rear wheel and one on the crankshaft of the engine have a combined output of 800 kW or 1100 bhp. The Gemera's 2-liter 3-cylinder dry sumped twin-turbo Freevalve engine, named the Tiny Friendly Giant (or TFG for short) adds another 450 kW or 600 bhp. The TFG is a progressive outlook on the powertrains of tomorrow. The TFG offers a lighter, more efficient cradle-to-grave solution compared to any combustion engine before it. Combined with electrification, the Gemera can be argued to be cleaner than a long-range EV, by using next-generation combustion technology designed for next-generation renewable liquid fuels, together with a small battery plug-in electrification.
Specifications
Specifications
PROPULSION
---
INTERNAL COMBUSTION ENGINE (ICE)
• Koenigsegg Tiny Friendly Giant Twin Turbo Freevalve 3-cylinder Internal Combustion Engine (ICE) with dry sump lubrication
• Compression: 9.5:1 – Bore: 95 mm – stroke: 93.5 mm
• Closed-loop combustion control with in-cylinder pressure sensing
• 440 kW (600 bhp) at 7500 rpm, red line at 8500 rpm
• Torque: 600 Nm from 2000 rpm to 7000 rpm
• ICE is mounted midship and powers the front axle together with one E-motor through a propshaft
• Engine weight: 70 kg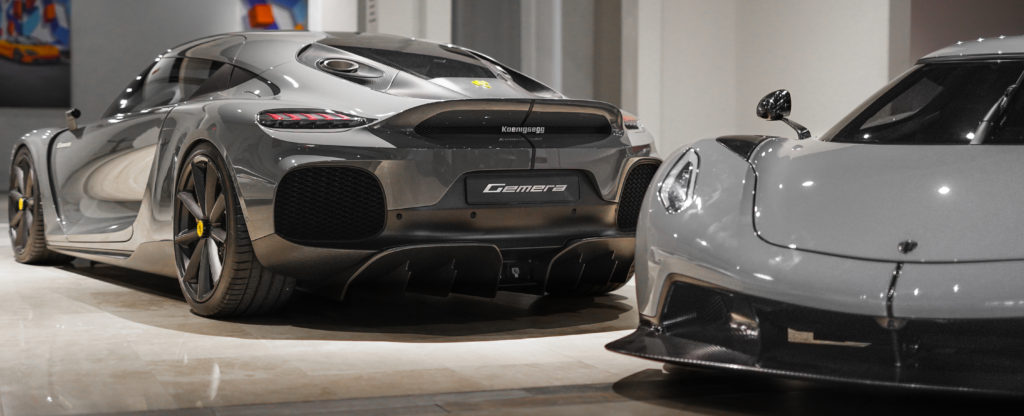 E-MOTORS
• Three Electric Motors: One for each rear wheel with 500 bhp and 1000 Nm each and one E-motor on the crankshaft 400 bhp and 500 Nm to power the front wheels (together with the ICE)
ENGINE MANAGEMENT
• Koenigsegg Engine Control Module
• Flex fuel capability including E100, Methanol and sun fuel
• High power ion sensing coil-on-plug ignition system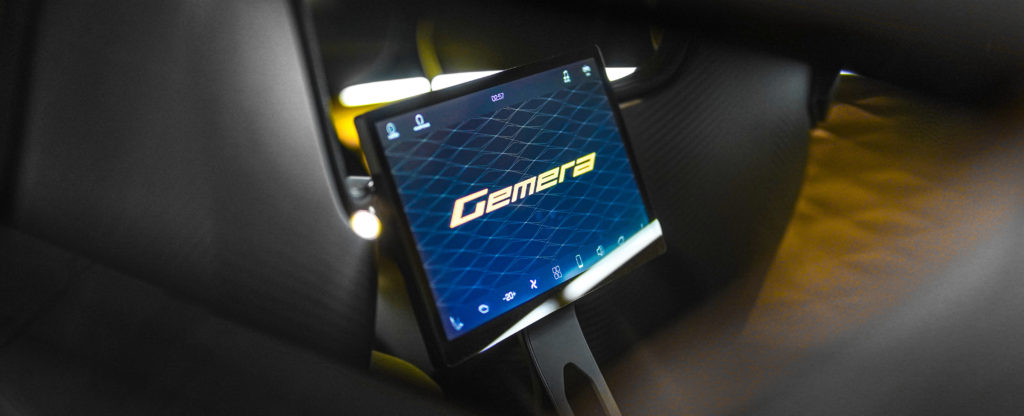 OUTPUT
• Total output 1700 bhp – 3500 Nm, including Hydracoup
• Max wheel torque: 11,000 Nm at ICE 4000 rpm
• 1100 bhp of combined electric power (counting E-motors separately – 1400 bhp)
RANGE
• ICE only range: up to 950 km
• Electric range: up to 50 km
• Total range: up to 1000 km
DIMENSIONS
---
• Total length: 4975 mm
• Total width: 1988 mm (without outer rear-view cameras)
• Total height: 1295 mm
• Wheelbase: 3000 mm
• Fuel capacity: 75 L
• HV Battery: 800 V 16.6 kWh, liquid-cooled
• Dry weight: 1715 kg
• Curb weight: 1850 kg
• Ride Height: 117 mm front, 117 mm rear
• Front lifting system activated: +35 mm
• Total trunk volume (rear and front): 200 L
• Optional roof box
TRANSMISSION
---
FRONT AXLE
• Midmounted Koenigsegg ICE + E-motor Hydracoup Direct Drive transmission powering the front axle. The front axle has torque vectoring capability and can be disconnected to save energy in EV only mode
REAR AXLE
• Independent E-motors with independent transmissions enabling torque vectoring and reverse. The rear transmission are equipped with wet clutches for decoupling, for range mode.
CHASSIS
• Carbon fiber monocoque – wheel to wheel stiffness – 40 KNm
• Front and rear aluminum sub-frames
• Adjustable and lightweight anti-roll bars front and rear
• Robotized hydraulically adjustable ride height front and rear
BODY
• B-pillarless, two doors coupe with fully accessible four-seater interior
• Carbon fiber body panels
• Visible carbon fiber on front and side splitters and venturi
• Carbon fiber wheels (optional)
HANDLING
---
STEERING
• Rack and pinion electric power-assisted steering
• Active rear wheel steering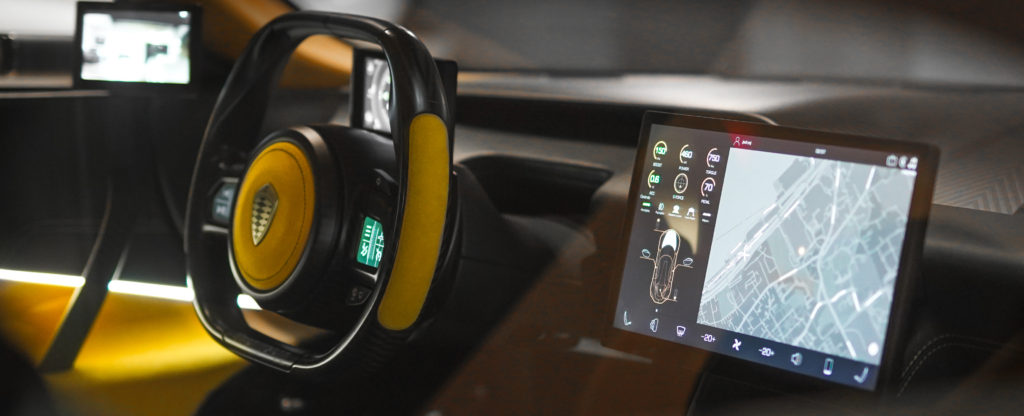 SUSPENSION
• Double wishbones and adjustable gas-hydraulic shock absorbers
• Electronically adjustable ride height
ELECTRONIC STABILITY CONTROL
• Koenigsegg Electronic Stability Control (KES)
TRACTION CONTROL
• 3 settings: wet – normal – track
Performance
Performance
The Koenigsegg Gemera´s engine is small. At the same time, it is big when it comes to power, torque and sound. Still, it is small when it comes to emissions and consumption. In short – it is a contradiction of an engine, developed and created by Koenigsegg and its sister company, Freevalve. Therefore, it has been named the "Tiny Friendly Giant" – or TFG for short. Being a two-liter three-cylinder engine, the TFG is future-proofed given its extreme performance, reduced fuel consumption and lowered emissions – not to forget its ability to run on second-generation CO2 neutral renewable fuels.
All-wheel drive, all-wheel torque vectoring, and all-wheel steering
The separate rear e-motors enable torque vectoring and reverse. The front axle has an open differential with a wet clutch pack for each output shaft, also enabling torque vectoring. This means that the Gemera has all-wheel drive, all-wheel torque vectoring, and all-wheel steering, as it also has independent rear-wheel steering – offering maximum traction and safety, and one exciting driving experience. The Gemera also comes with active ride height to complement driving conditions. Additionally, the all-wheel torque of over 11000 Nm is clawed into the ground from standstill, creating quite the undertaking for the Gemera's massive and grippy Michelin Pilot Sport 4S tires.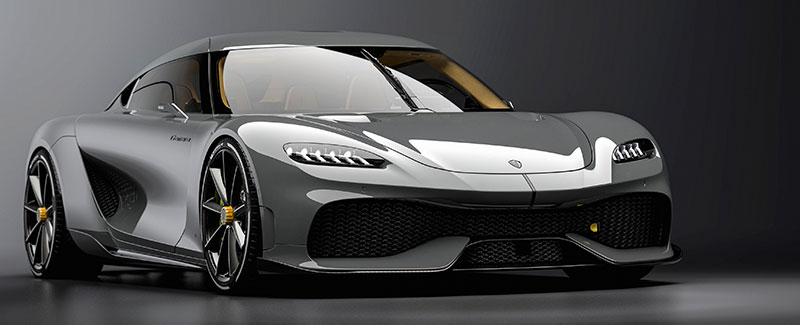 Koenigsegg Direct Drive (KDD)
Traditional hybrids represent a compromise when it comes to weight, complexity, cost and packaging. The Gemera, on the other hand, together with its sibling the Regera, is a new breed of hybrid. Its main advantage? Providing ultimate response from standstill to top speed in the form of a single gear direct drive at lower weight and higher efficiency than what any other hybrid solution can offer. During highway travel, for instance, the KDD reduces drivetrain losses compared to traditional transmissions or CVT by 3-5% as there is no step-up or step-down gear working in series with the final drive – just direct power from the engine to the wheels with the torque-converting HydraCoup locked up. Torque is crucial, especially when accelerating to extreme speeds in one gear. In the Gemera, this is facilitated by the torque-converting HydraCoup – it converts the combined 1100 Nm coming from the TFG and front e-motor to almost double its torque up to 3000 rpm. That is why the Gemera has 3500 Nm of torque from standstill and why it can accelerate from 0-400 km/h in a single gear.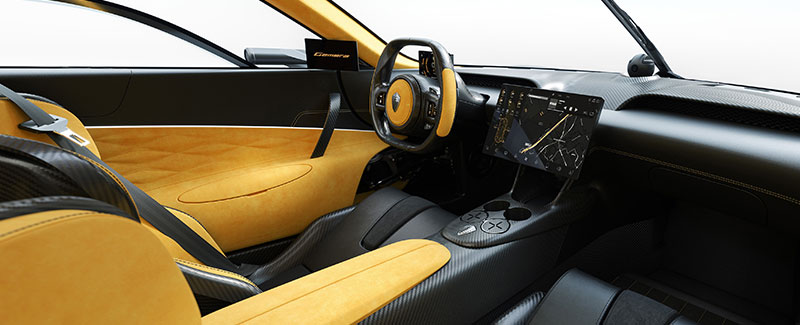 Combined power output of 1700 bhp
Power output from the three motors – one for each rear wheel producing 500 bhp and 1000 Nm, and one E-motor on the crankshaft that produces an extra 400 bhp and 500 Nm to power the front wheels – add up to 1400 bhp as individuals and 1100 bhp when combined. In addition to the TFG's 600 bhp (at 7500 rpm) and torque of 600 Nm (2000 rpm to 7000 rpm), the combined power output of the Gemera is 1700 bhp or 1.27 MW.
Design
Design
The Gemera combines the exciting performance traits of a mid-engine two-seater megacar with the practicalities of a four-seater car with more luggage space – meaning the Koenigsegg megacar experience can now be shared with family and friends. As a Mega-GT and Koenigsegg's first four-seater, the Gemera signifies a revolutionary new vehicle category with an innovative automotive design to match.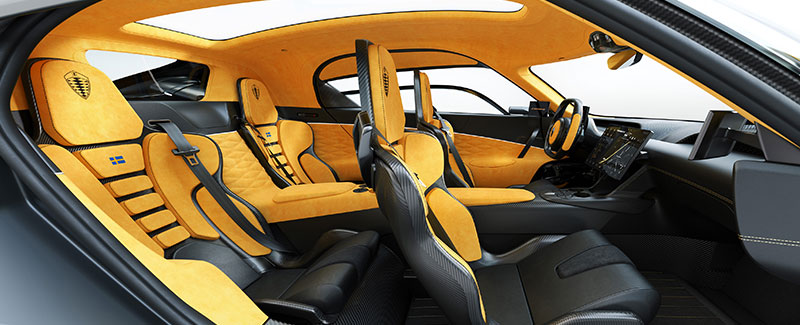 Interior
The Gemera is a true four-seater where the rear and front seats are equally celebrated and comfortable. Thanks to the lack of B-pillars, the Gemera's cabin is essentially unobstructed for both front and rear passengers to enter or exit, with no need to move the front seats to get in and out of the rear. Eight cup holders – two person – one hot and one cold. Steering wheel with leveled graphics screen in the center and haptic touch screen buttons on each spoke.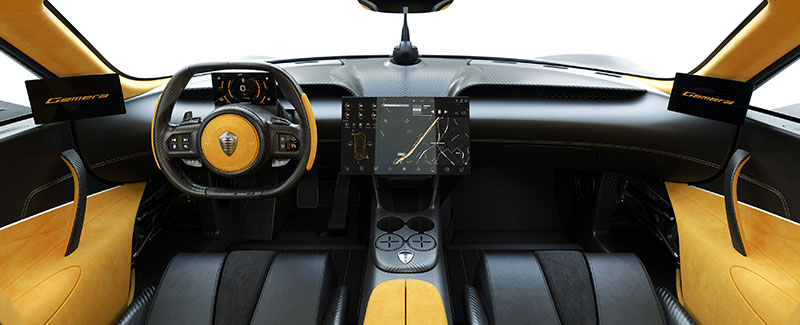 Exterior
The Gemera's architecture boasts a robust and monolithic characteristic that takes inspiration from very early Koenigsegg designs. The essence of the megacar is obvious in the exterior but the fact that it's a four-seater is a complete surprise when the giant doors swing open. Rear view cameras replace the side mirrors. Top-mounted titanium Akrapovič exhausts leave a massive impression on looks and sound. Air vents incorporated into the headlights and the taillights.